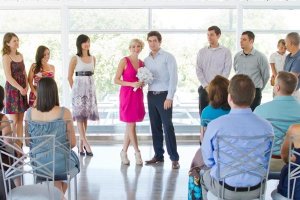 The ceremony is the most important part of the wedding. It is also important that you have a wedding coordinator at your rehearsal.  Most likely you haven't thrown a party like this before so you will need help with coordinating and creating order for your celebration. On the morning of your wedding, you don't want to be stuck ironing out all the details moments before you have to walk down the aisle.
I'm going to give you a few reason for why you need a Wedding Coordinator for your rehearsal.
A wedding coordinator will help you in ensure your day will go off smoothly. They will let everyone to know what to expect on wedding day, by telling them what's happening and when it's going to happen. You will need a professional to help round up everyone, get everyone acquainted with each other and their duties.
Chances are that your bridal party hasn't seen to your venue before, so a coordinator will help them get familiar and comfortable with the space.
The coordinator also helps your bridal party, parents, grandparents know how to walk, where to stand and what to do after the ceremony if over. They will go through a complete rundown of the ceremony from beginning to the end. This will help to show everyone where they need to stand, how to walk, how to carry the bouquet and the how the groomsmen should place their hands, and line everyone by height.   A coordinator also will go over the processional and recessional and where to go after the ceremony. where they need to be and help with the processional order of the bridal party.
Sometimes you will need to make some last minute changes like move the altar because of bad lighting change the lineup. If the ceremony is outdoors you may find out that you can't face the sun at 1 :00 or there is a big wasp nest in the tree, or some other environmental issues. A wedding coordinator will help you to navigate through any issues.
Wedding coordinators help you coordinate a back up plan if you're having an outdoor wedding and it rains. Trust me! If you are getting married in South Florida you know it can be sunny one minute and a hurricane can come through the next.  You need to practice in the backup venue space and get everyone familiar with the space. I did a wedding in Central Florida where the ceremony was to take place by the lake. Well in stormed 45 minutes before the wedding and the ground was soaked. I had to immediately go into back up mode and do a quick rundown again of the rehearsal.
If it the ceremony is religious, or held in a church, the coordinator will make sure that parts of the ceremony are respected. If they wedding is a Jewish or Catholic there can be more moving parts that other weddings.  Sometimes church ceremonies can be a little more complex so a coordinator will help you navigate.
Need a wedding coordinator in South Florida , please contact us today eleganteventsbymichalea.com/contact/