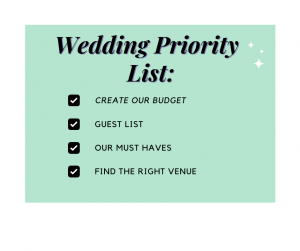 Dear Bride and Grooms, the big question to you is "Why do you need to Prioritize your Wedding?"
One most important reason why you need to prioritize your wedding is so you both can focus on each other and have a stress free engagement.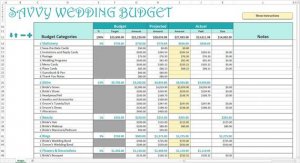 Once you've settled into your engagement and made the exciting  announcement it's now time to actually start planning your wedding,  however you cannot start the planning process without a budget (even though you can but you shouldn't). Therefore before you become entirely submerged in all the wedding details it's very important to know where your priorities lie before you build your wedding budget. Determining your priorities will provide a roadmap to your budget.
We know, figuring out your wedding budget is no easy feat. From trying on the most gorgeous dresses, attending yummy cake tastings to choosing the perfect florals, we can name a million other things about planning your wedding that are more fun than discussing the budget. Afterall let's just skip to all the details you've been dreaming of right? That would be amazing, however what you probably haven't done is attach the price tag to each of the items in your wedding dream.
Prioritizing your wedding will not only save you time but money. What really are your wedding priorities? Your wedding priorities are the elements of your wedding which are most important  to you. The elements you have no problem spending on.
Here are a few things you should do when setting your wedding priorities in order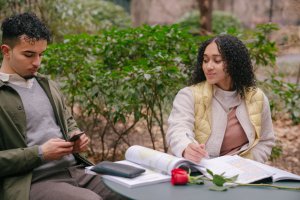 Take some time to have a honest conversation with your partner. What are your (must haves)? Is it a live band or food truck, or a five tiered hanging wedding cake? Write down everything that's really important to you both. Making a priority or non-negotiable list will help you both to figure out what elements to keep and which to cross off the list.
Hire and speak with your wedding planner. Share your priority or non-negotiable list and also your tentative wedding budget. Remember, your wedding planner is an expert when it comes to budgeting. If you're having issues fitting your champagne wedding dreams into your sparkling cider budget, your planner can guide you and show you ways to save and cut back. Be sure to meet with your wedding planner after you've had your priority and budget conversation. Your planner will guide you all the way and will help make your wedding dreams come true with the budget you've decided upon.
Consider your guest count. Amongst other things, creating your wedding guest list can be extremely stressful. Let's face it, putting together a list of the most important people in your life, your partner's life, as well as those in your parents' and in-laws life is a huge decision to make. However it's one of those tough conversations that you and your partner must have as the size of your guest list will greatly affect your wedding budget. Keep in mind that there's a dollar-amount associated with every individual who attends your wedding so don't feel obliged to invite the family members or friends you haven't seen or spoken to in a very long time. Where does your priority lie? The grand celebration you've always dreamed of with less guest or the cut back on florals to invite ALL your guest? To help you make your decision, revisit your priority or non-negotiable list.
In conclusion, taking the time to properly prioritize your wedding from the beginning is extremely important. Making a priority or non-negotiable list before you set your wedding budget will help you every step of the way when planning your wedding. Can you plan your wedding on any budget? Of course you can plan your wedding on any budget, however you can't plan "any" wedding on any budget. So get a clear view of what you want for your wedding day, hire a wedding planner, create your priority list, allocate your budget accordingly and balance your priorities as you move forward. This mean you may have to readjust your wedding budget, trim  the guest list and cut out some of those wedding elements which aren't so important. Happy Planning Bride and Grooms.
If you have any questions or need help with planning your wedding, contact us today eleganteventsbymichalea.com/contact/