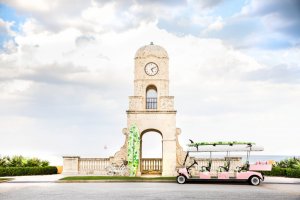 When planning out your wedding day, you want to make sure every moment means something to you as a couple and that it reflects what you always envisioned.
For the last few years on the trends in wedding is having a "First Look". Anxious bride sneaking up behind her fiancé, tapping him on his shoulder waiting to see his reaction. It seems like everyone is doing it nowadays.
Some couples still want to stick to tradition or superstition. Should we or not?
Deciding whether or not to have one should only be made after you have gone through all of the first look pros and cons. Well you're in luck, we went ahead and did all the hard work for you.
What Was Trend Has Now Become Tradition
Whether you love them, dislike them or are indifferent, first looks have become a special part of today's weddings. More and more couples are opting for this sweet moment before their big day begins. Because this is somewhat a new concept, most brides who opt for a first look only do so after careful consideration. When we think of a traditional wedding, most brides imagine walking down the aisle and seeing their groom for the first time. Many guest look forward to the first glimpse shared with family and friends. While the first look does not entirely take that moment away, it does allow the couple to keep emotions between the two of them.
In this post I am going to lay it all out, and give you  the pros, the cons and even bring in the opinions of a pro photographer. After reading this resource, you will have a better understanding of whether or not a first look on your wedding day is right for you.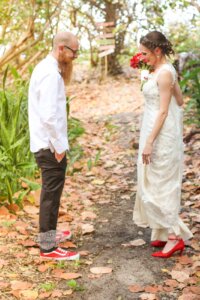 Photo by heartography
The Pros of Having a First Look
1.On your wedding day, there will be a lot of emotions build up before the ceremony. You want everything to be perfect, all eyes will be on you. It's normal for you to have the jitters. Seeing your groom to be before the big show could help you feel more comfortable and reassure both of you that you're in this together.
2.Your photographer can take more pictures before the ceremony freeing up some time for you to enjoy the party more. It can also give you a few moments alone. The day will be a little chaotic and busy it will go by so fast
3.You can choose any location since there aren't any restrictions. You first look location can be on a rooftop, the beach, the park, or  a special place for both of you, like where you first met.
4.You will be able to take more group pictures with your family and bridal party. You will also be able to enjoy your cocktail hour with your you family and guests.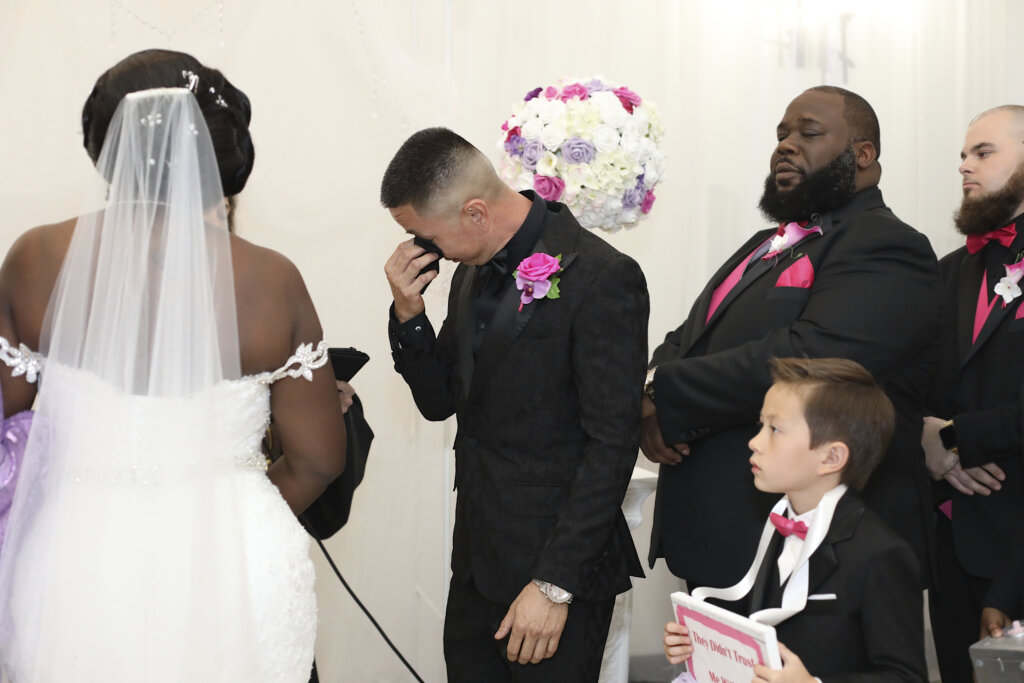 Photo by nateveal photography
The Cons of Having a First Look
1.You will have to have your make up touched up. You can't predict you emotions or how you will react when you see your fiancé. You could cry a whirlwind of  happy tears. If you don't have someone who can touch up your makeup, chances are you will have to pay your makeup artist to stick around.
2.That moment you and your fiancé see each other for the first time, it will be magical. If you want that special moment to be at the altar, then a first look is not for you. It can still your thunder
3.You could get your dress dirty. Depending you the location you choose and the weather, your remote location opens up for the possibility of getting your gown dirty before the ceremony.
4.If you are running behind schedule, the first look could put your further behind. There are many unpredictable events that can cause a delay. Your hair and makeup could caught in traffic, a wardrobe malfunction. These delays could force some of your events to be rushed, which can make your first look potentially stressful.
Alternatives to a First Look
If you choose no to do a first look , there are still some creative things that you can do that will still have that special feel.
First Touch  – Many couples choose to first touch in place of the first look. This can still be intimate without blowing the suprise. You and your fiance can hold hands while standing back to back with blindfolds loosely tied, or a door or wall in between the two of you.
First Prayer – If you are religious, then your religion should play a big role in your wedding as you would like it to. This is a beautiful way to share an intimate moment of faith and love. It's nothing like holding hands with future spouse and starting the marriage with saying a prayer. AMEN
  First Gifts – You and your fiance can exchange gifts. The both of you can be hidden or separated form each other, but still be able to hear each other's reaction. Your photographer will be there to capture that moment.
First Reading – Expressing your love through a special poem or a song is always a romantic idea. It doesn't matter if it's something you wrote, a song or piece that's very special to both of you. You can read, sing, or play for your fiance, it will be something they never forget. Don't forget the tissues.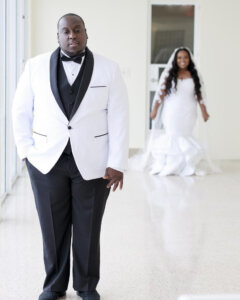 Photo by imagery by jules photography
Gregorie Jules of Imagery by Jules Photography, who is a photographer here in South Florida  says "I loves it when the client decides to do a first look. The advantage is it allows you to conduct all the formal photos with the couple and bridal party. Depending on the time of the ceremony, it allows you to capture beautiful photos in natural light verses with at night. It also allows the bridal party the opportunity to enjoy the cocktail hour."
When it comes to having a first look, ultimately the decision to up to the bride and groom. I have given you some of the pros and cons of having a first look. If you do decide to have a first look, there are so many beautiful places here in Palm Beach and throughout South Florida. No matter what you decide, I'm sure it will be special and just how you've always dreamed of.
Need help coordinating your special and or special first look. Contact us here today and schedule your free consultation.