How To Choose Your Wedding Colors
Bride and Grooms to be, creating a beautiful wedding day look that will give you all the feels and create an amazing guest experience requires careful consideration and lots of planning. Before you start to pin, make purchases or select any floral designs, furnishings, linens, signature drinks and other decor elements, it is important to choose your wedding colors first. Choosing your colors is a very important part of the whole wedding planning process that should be done at the beginning. It's a part of the very foundation of all the wedding details you'll combine and fold into your big day. From the invitations to decorations and flowers, pre-wedding activities, to the bridal party attire, to the signature drinks and favors, your colors tie everything together into an intricate and amazing wedding day that will provide a perfect aesthetics and ambience. How do you choose your weddings colors? Here's a few tips to help you make your selection.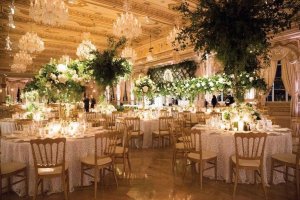 Your Venue
 First things first. Before you choose your colors it's important for you to find your venue. Be sure to keep in mind that you may have two venues (ceremony and reception). When you visit, take a good look around the venue. Take note of the venue's overall style and tone. Place your attention on the wall paper, ceiling, artwork, upholstery, and even the carpet. Avoid any colors that would clash with these. You want everything to be cohesive. Are you set on a specific combination of colors? Choose a venue that is a blank slate. This will give you the freedom to add any decor that you like that will help make your wedding vision come through.
The Time of Year
 While there's no golden rule that says your wedding colors should match up with your wedding season, it's always a wise idea to make sure your wedding color palette compliments the wedding season. Always remember some colors naturally dominates for each season and what's taking place in nature at the time of your wedding can provide great inspiration and help as a guide to help you determine the mood you'd like to create.
Go With Your Favorite Colors
Why not stick to what you love? Choosing your favorite colors is always an option if that's where your heart is. If your favorite color is red, your fiancé agrees and it works in your venue. You can use it and add more colors to complete your wedding color palette. Remember, to
always choose at least one neutral and toned down color like ivory, beige, white or pearl. Choosing a light color that can compliment everything is also a plus. This color can serve as an accent to your stationery, bouquet and centerpieces. Don't forget that you can pair your wedding  color with a metallic such as gold, silver or copper. This sets the tone for a glam affair. Remember not to choose no more than 4 colors for your wedding color palette. Choosing too many colors can get a bit complicated.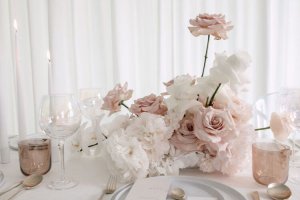 Wedding Style
 What is your wedding style? What is the overall atmosphere and feel you're trying to create? Are you considering a beach wedding or a more traditional wedding? What about a vintage, contemporary, rustic, bohemian wedding style? Whatever you envision for your big day, you'll definitely find great inspiration while choosing your colors. Just like seasons, some wedding colors are best for specific styles. For example, a beach inspired theme wouldn't go well with metallic gold and black, while a pink and blue wouldn't compliment a Gatsby-inspired theme. Explore a few wedding themes, once you've chosen your wedding style, selecting your wedding colors will be easier.
Conclusion
Bride and Grooms to be, what colors are you envisioning for your wedding? Will you be choosing your favorite colors? What colors do you want to avoid? Although choosing your wedding colors is a huge decision to make, the process should be fun. Take the time to play with colors if you have to by using Pinterest, a color wheel or even paint chips. If you cannot seem to make a choice, create a classic color palette with whites and silver. Happy Planning!
Need some assistance with choosing your colors? Call or email us today 561-287-6228, info@eleganteventsbymichalea.com  eleganteventsbymichalea.com/contact